After the evolution of smartphone, access of internet has increased. Due to which many private sectors have begun their services online for customers. The insurance premium payment is one of them. Khatriji is one stop podium to pay your insurance premium online.
The user interface of Khatriji is simple and accessible to even an ordinary user through its App or Website. You can pay to different insurance providers like ICICI Insurance, TATA Life insurance, LIC Insurance via Khatriji. Khatriji provides various payment methods to pay insurance premium online using Net Banking, Master Card, Visa Card and Khatriji Wallet.
You are just required to remember your Policy Number and follow these easy steps after Logging into Khatriji.
1. Select your Insurance Premium Operator.
2. Enter Your Policy number.
3. Enter the Amount for paying your premium.
4. Now Proceed to Pay Premium.
Despite being convenient, Khatriji offers secure Insurance premium option. All the online bill payments made via Khatriji's platform are processed through secure transaction services. User can easily make payment of the insurance premium from Khatriji wallet in few seconds. Apart from this, Skyomie of Khatriji are also the facility of tree income, repurchase income, refer and earn policy.
Paying your insurance premium bills online is the easiest way in this fast tech-savvy consumer era. Khatriji wallet gives you the leverage to pay with just a click of you of your phone for an App or through Website.
Refer & Earn
Refer your friends and earn some extra income.
Refer Your Friends
Share your unique referral link with friends.
Your Friends Can Register
Your friends can register to Khatriji using your referral link.
You Earn
You can earn through credits like product purchase, recharge & bill payments.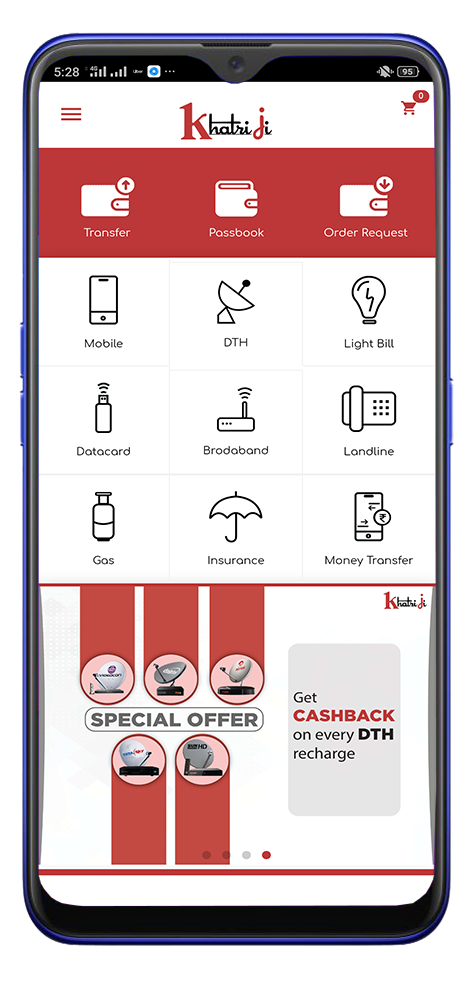 Download Our Khatriji
Mobile App Now
Download our app for the Fastest & Easier way for Mobile Recharge, Bill Payments and Product Purchase.
Khatriji provides convenient and safe platform to user for earning extra income with profit. Using this app users are able to earn income like referral income, tree income, re-purchase income and cashback. This app also provides services like...
Recharge
Bill Payment
Product Purchase
and many more.....