Data card plan makes the user to experience the best browsing and downloading experience through mobile devices. In today's era, everyone wants information in their fingertip and internet service is the way for that. Smart phones provide a mobile platform for downloading, internet browsing and data card recharge plans provide the access. Users are allowed to go for the data card recharge and start accessing internet from mobile devices immediately.
Today's era, data cards can connect to the wirelessly. You can carry out to the anywhere when you want, while travelling any other cities, your office, family picnic, business trip, etc. you can carry with it easily.
Simple and Quick way to do an online recharge via Khatriji. You can get the benefits of amazing Data card offers and also get cashback offers. You can instantly recharge your data card and it is much faster than other service providers and khatriji gives you best offers.
You can instantly recharge your data card within seconds, all you need to do is follow these simple steps.
1. Select your mobile number is Prepaid or Postpaid.
2. Enter your Mobile Number.
3. Select Your Datacard Operator.
4. Select Your Circle.
5. Enter amount and also view plans.
6. Then you have to click "Continue to Recharge"
7. And you will get instantly pay your datacard bill.
Data Card recharge offers make downloading and internet browsing fast and cheap. Data card plans come in a variety of range of prices and validity periods. Users can make their data card recharge as per their usage and requirement. Khatriji provides diverse range of data card plans. They can also avail with the benefits of cashback in their wallets. Users are also given with the facility of tree income, repurchase income, refer and earn if they are the Skyomie of Khatriji.
Khatriji is a leading provider of mobile recharge offers and brings to users an online platform for mobile recharge. We give online data card recharge plans for different providers including Vodafone, Reliance, Airtel, MTNL, and many more. Users are allowed to recharge for any of the network provider they use, data card online. Data card online facility allow users to recharge their phone anytime and anywhere and get a surprise wifi recharge cashback in their khatriji wallet. Users can do the exploring of all the offers and recharge data card online at their own convenience. Use high speed internet browsing and download from your mobile device at affordable prices.
Refer & Earn
Refer your friends and earn some extra income.
You Refer Friends
Share your unique referral link with friends.
Your Friends Register
Your friends Register to Khatriji using your referral link .
Earn You
You will earn. You can use these credits to take recharge , bill payments and in Product purchase.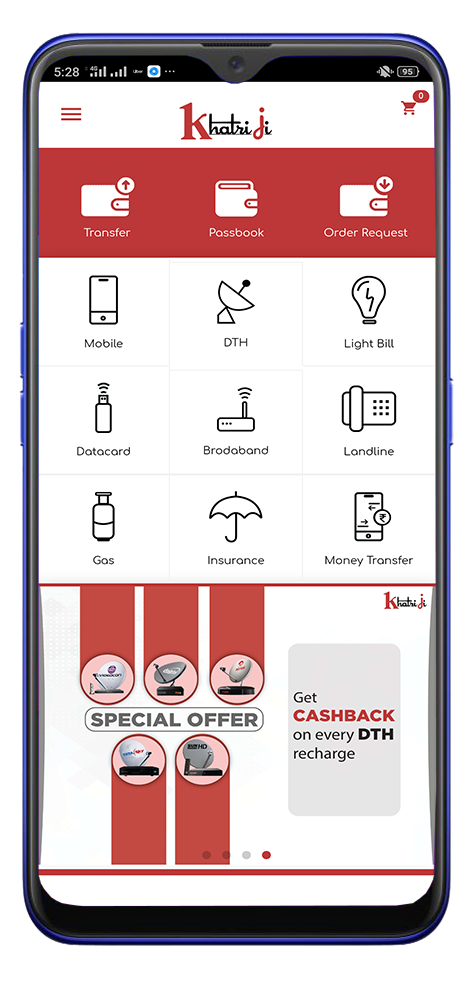 Download Our Khatriji
Mobile App Now
Download our app for the Fastest & Easier way to Mobile recharge , Bill payments and Product purchase.
Khatriji provide a convenient and safe platform to user for earning extra income with profit . Using this app users are able to earn income like referral income , tree income , re-purchase income and cashback this app also provide services like...
Recharge
Bill Payment
Product purchase
and many more.....